Il aura fallu six semaines de parties sur le ladder et trois Free Flyer Cup pour qualifier16 joueurs pour la phase finale de l'Opération Eagle's Rest.

Cinq guildes y sont représentées : Flag, GOAT, Xborg, Axie.gg, Metaguild.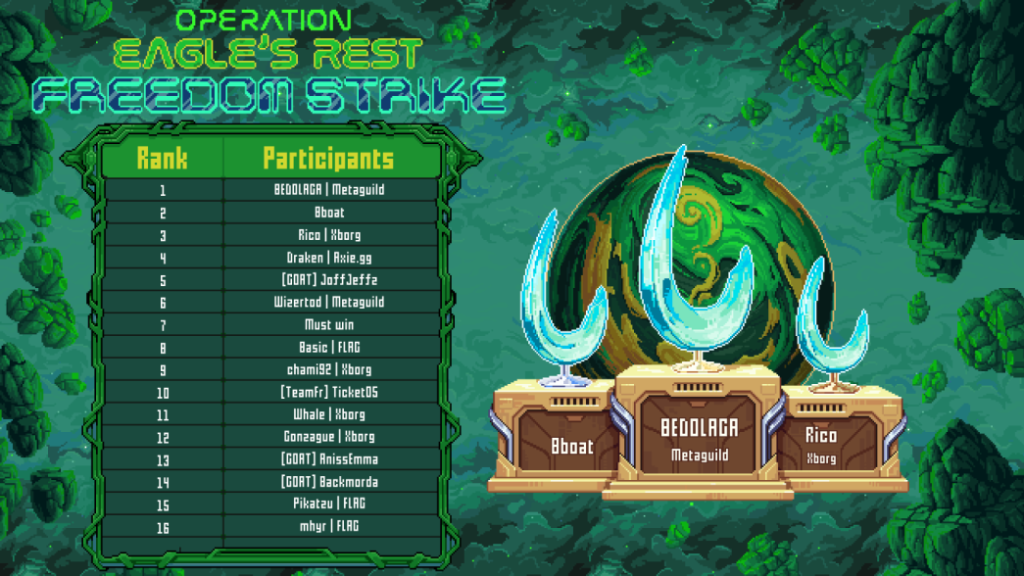 Pour ces seize joueurs 6000 $ Usdc étaient en jeu, répartis de la manière suivante :
TOP 1: $1500 USDC
TOP 2: $1000 USDC
TOP 3: $700 USDC
TOP 4: $480 USDC
5 to 6: $280 USDC each
7 to 8: $240 USDC each
9 to 12 : $200 USDC each
13 to 16 : $120 each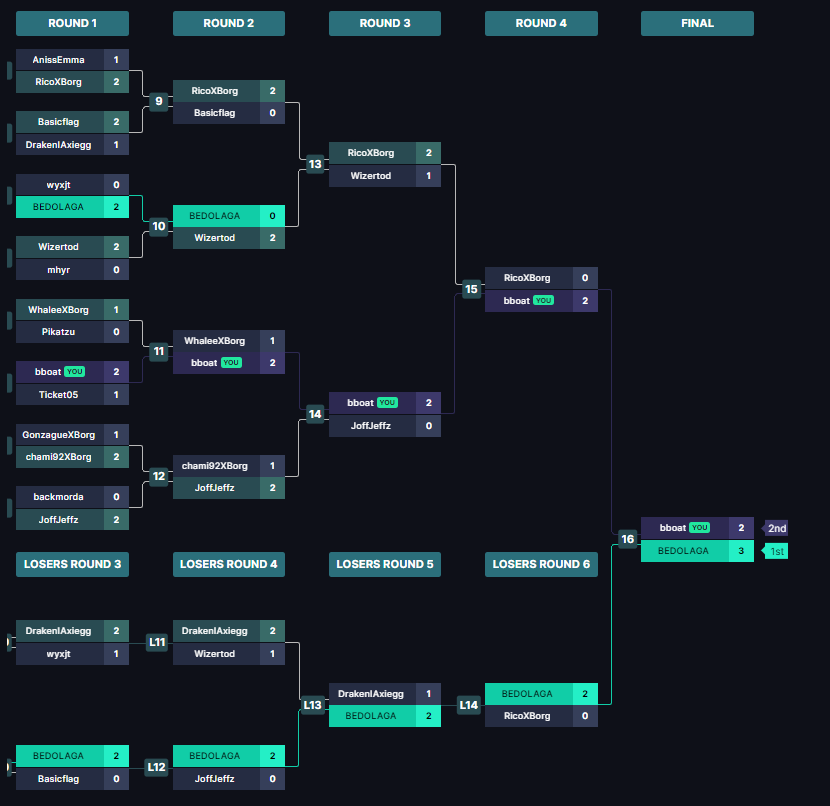 Après avoir perdu la deuxième round face à wizertod, vainqueur de la space cup 3, et cheminé par le looser bracket Bedolaga de la team Metaguild s'est imposé comme le nouveau champion face à Bboat et voici le deck qu'il a utilisé en finale :
Une liste travaillée spécialement pour cette méta les yin permettant de gérer les Space trash adverse contre les jeux contrôles. On notera aussi l'absence de Néo City laissant, dans un match miroir, son adversaire les jouer pour lui, ce qui a permis de mettre des cartes actives à la place.


Voici quelques listes jouées durant l'évènement :

« Blood River suicide » part Chami92 d'Xborg :
Une liste très bien pensé pour tirer un maximum d'avantage de blood River. Drain Module, Shielding Drainer, Fire ! Fire ! Et Trapped Container pour passer sous le shield de votre adversaire et Late revenge qui tire parfaitement avantage de votre perte rapide de PV.


« Exile is not Dead » part Bboat :
Le but est d'essayer de finir à 9/11 cartes sans prendre Invasive Plant trop durement et bloquer son adversaire en jouant plusieurs Anti Matter Capsule tous les tours tout en developpant de l'énergie avec Demeters Gift et Energy Laser.


Joff Jeffz, de la guilde GOAT, vainqueur de plusieurs cup, opta plusieurs fois pour un deck « Damage », la stratégie est assez simple et sans compromis :
Whalee, de la Guilde Xborg, choisi d'opter pour la liste gagnante de la dernière Cup à savoir le deck contrôle de Wizertold :
Le but est simple : tenir en chargeant son shield pour finir votre adversaire au Shield Attack.