How to quote from this first tournament of the 2023 season without talking about the qualifying phase to participate.
Only 8 points separated the first from the last qualifier, it had never been so tight. At the usual Flag, GOAT, XBorg, Axie.gg, Metaguild Guilds, we note the arrival of two new free flyers, @NielsBohr and @Karyus82.
$1500 USDC were up for grabs :

TOP 1: $420 USDC
TOP 2: $270 USDC
TOP 3: $180 USDC
TOP 4: $110 USDC
TOP 5 to 8: $60 USDC each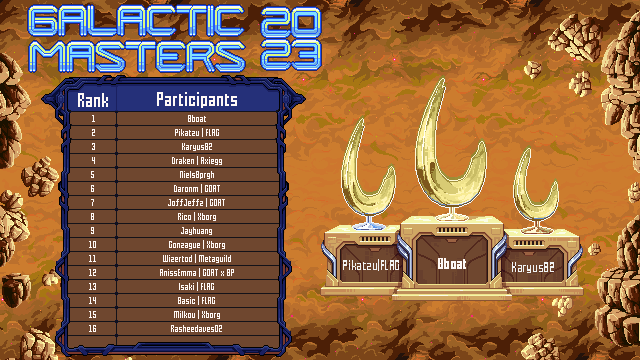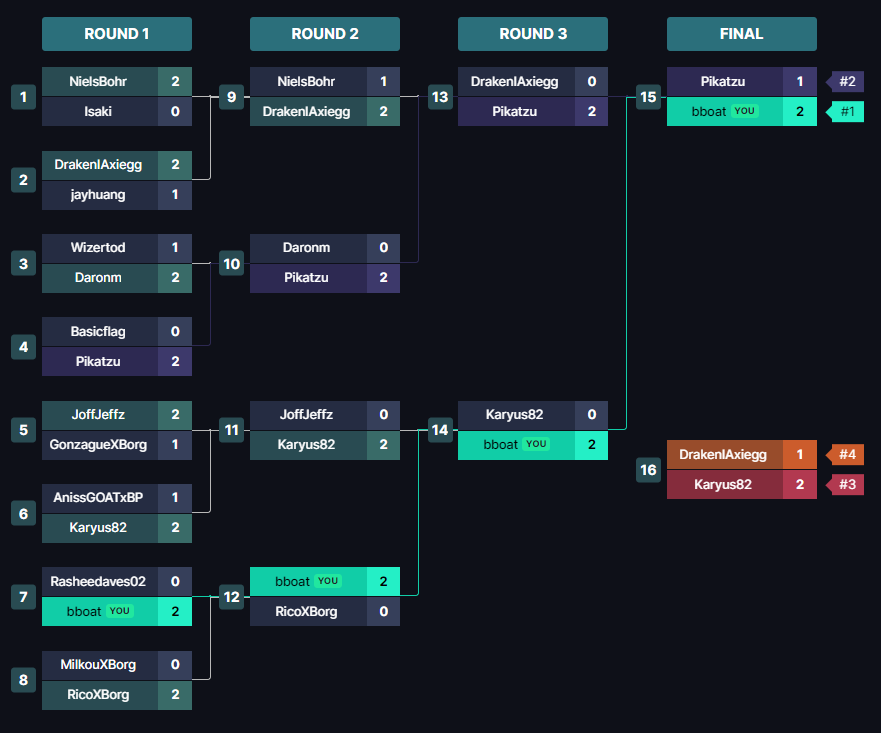 Here are now the first four pilots to qualify for the Galactic Grand Master:

@Bboat
@Pikatzu | Flag
@Kyarus82
@Draken | Axiegg

In the list of players who managed to climb into the last four, only Karyus82 did not opt ​​at any time to play Inferno.
Draken had opted for a controlled version of Inferno , which is very similar to the versions of @Must Win, the creator of the deck.
Inferno Control by Draken | Axiegg
Bboat won against Pikatzu from the Flag team in an intense BO3. Each of the players had opted for an Inferno Deck, with the exception of the first part where Pikatzu played Neo City.
Pikatzu equalized with a magnificent Emergency Deployement on Quantum Locked plus Hades, when he had no life left.
But on the third part the Deck Inferno anti Inferno without Inferno of Bboat, left him no chance.
Bboat was counting on the fact that Pikatzu played a version of an Inferno Deck to replace his own with Spy , a very strong card in this kind of match up. It allows you to burn decisive cards such as part of Athena , Hades, You Won't Need This, Beeeeeh, Power Generator or even Nano Boost.

Here are the lists of games used in the final:
Don't miss the opportunity to qualify to Galactic Grand master 2023.

Special thanks to member of Flag Guild who help me a lot on this article Okanotfearofkraken, Discophage, Fuzer and, of course, all the other.